Bonsai starter kits are becoming increasingly popular as people realize the joys of caring for these beautiful miniature trees. But with so many different kits available on the market, it can be hard to know which one is right for you. Let's explore what bonsai starter kits are, and whether or not they are worth investing in. We will also provide a few tips on how to choose the right kit for your needs. So if you've been thinking about starting your own bonsai collection, read on!
What Is a Bonsai Starter Kit
A bonsai starter kit is a pre-packaged set of tools and supplies that are needed to get started in the art of bonsai. The contents of a starter kit can vary, but usually include a small pot or tray, some soil, wire for shaping branches, and pruning shears. A bonsai book is often included as well, to help the beginner get started on the right foot.
If you are interested in trying your hand at bonsai, a starter kit can be a good place to start. Just be sure to do your research before purchasing one, so that you know what you are getting and what quality level to expect.
What's Included In A Bonsai Starter Kit
When you buy a bonsai starter kit, it will usually include everything you need to get started with this rewarding hobby. It is important to read the included instructions carefully so that you can be sure to start off on the right foot. Here are some of the main components of a good starter kit, and some things to look for when choosing your own starter kit.
Bonsai Tree
Most bonsai starter kits will come with a small tree or shrub. The tree that is included in the kit should be of a species that is easy to care for and train. If you're wanting to test your green thumb, there are also kits with bonsai trees that require more care and attention.
The most common trees included in starter kits are Juniper and Jade trees, and that is mostly because these are two of the easier bonsai trees to care for. Some of the more difficult bonsai trees to care for are Cherry Blossom, Cedar, and Gardenias.
Some kits come with several seeds for you to grow the tree yourself, while others come with a tree that is already a few years old. Both have their benefits, so let your personal preference tell you which type of kit you would prefer.
Pot or Container
Starter kits should come with a container for your tree, although not all containers that come with some of these kits are great choices for your bonsai tree. Typically included is a plastic container, since that is a cheaper option. Some starter kits will come with a nice ceramic pot, and those are great to keep. If the kit you choose comes with a pot that isn't sturdy enough to last several years, just know that you may need to upgrade your pot down the line, but that means you can get creative with it and find one perfect for your space!
Soil
The soil mix that comes with the kit will typically be suitable for growing bonsai. If it is not, make sure to find a soil that holds moisture, but is also well-draining, and that has plenty of aeration with a variety of particle sizes. The easiest way to get a high quality bonsai soil is by purchasing a specially formulated soil.
In seed-starting bonsai kits, they will typically include a disc of expandable soil. There's nothing wrong with this soil, but keep in mind that you will want a higher quality soil to give your bonsai the best chance at thriving.
Tools
Some kits will come with tools to use with your bonsai tree. Tools that will be helpful in the care of your bonsai tree include pruning shears, a miniature digging fork, and a moisture meter. Not all kits will include all of these tools, so it's a good idea to make sure you have them just in case you need them while caring for your bonsai tree.
Some extra tools and supplies you may need include something to help loosen roots for when you repot your bonsai, gravel to top your soil and help retain moisture, and a humidity tray.
Training Wire
When it comes to bonsai, one of the most important things you need is a good quality training wire. This will help you to shape your bonsai tree into the desired shape, so finding a kit that includes a high-quality training wire is important. Luckily, many kits come with training wire, but not all of them do. Either way, it's important to make sure you have a high-quality training wire.
One of the most popular types of training wire is anodized aluminum wire. This type of wire is very strong and durable, yet still flexible enough to easily shape around your tree. It is also resistant to corrosion, so it will not rust or break down over time. Another popular type of training wire is copper wire. Copper wire is also very strong and flexible, but it is also more expensive than aluminum wire.
No matter what type of training wire you choose, it is important to make sure that you get a good quality product. There are many cheap imitations on the market that will not last as long or work as well as a quality product.
Fertilizer
Fertilizer is very important for your bonsai tree, so a bonsai starter kit that includes fertilizer specifically for your bonsai tree is amazing. Many kits do come with fertilizer, but some of the cheaper options skip this important item. If the kit you want does not come with fertilizer, don't worry! Just make sure to buy a high quality fertilizer specially formulated for bonsai trees.
Instructions
Your bonsai starter kit will also typically include a set of instructions that usually include a care guide for your bonsai tree. Depending on where you buy your kit from, these instructions may be comprehensive, or they may only cover the basics. Not to worry if it's the latter, just grab yourself a comprehensive guide to help you give your bonsai tree the best life possible.
Keep in mind, just because a kit doesn't have everything listed here doesn't mean that you shouldn't try it out. A kit that includes everything is amazing, but for some of these items, you can easily find them online, and possibly at your local gardening or hardware store.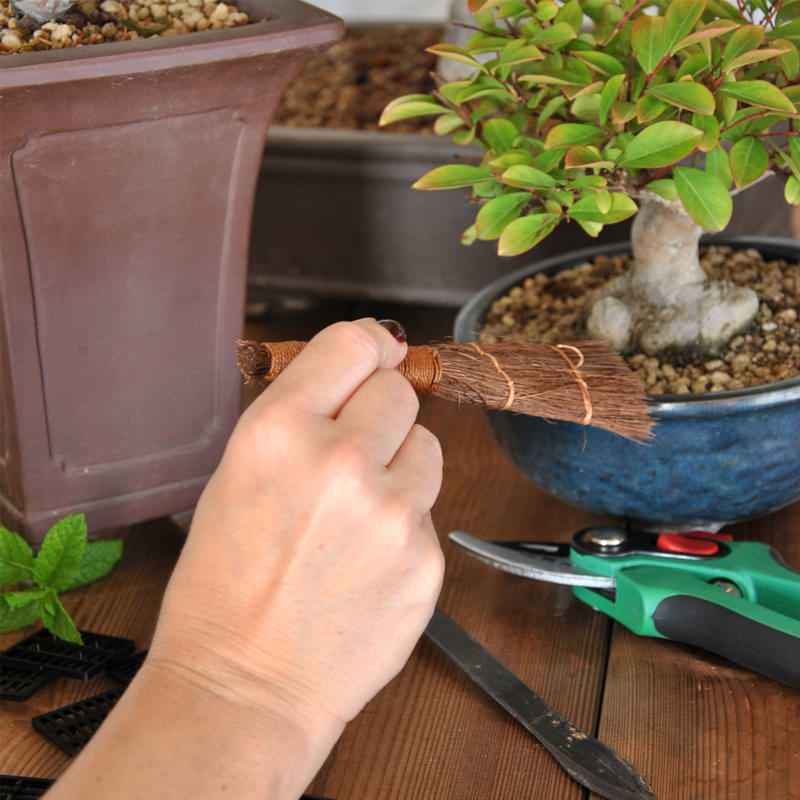 Are Bonsai Starter Kits Worth The Money
A bonsai starter kit is a great way to get into the fascinating and rewarding hobby of bonsai. But are they worth the money?
The answer depends on what you want to get out of the kit. If you're just looking for a few basic supplies to get started, then you can probably find everything you need for less than the cost of a whole kit, depending on what kit you're considering. However, if you're looking for a complete set that will give you most of what you need to create and care for a beautiful bonsai tree, then a starter kit can be a great investment, especially if you don't currently have anything bonsai-related.
A good quality starter kit will include both essential and advanced supplies, as well as instructions on how to use them. It should also have enough supplies to last for several years, so it's not something you'll have to replace frequently. Some of the tools included in starter kits can also be used elsewhere in your garden, and getting double use out of something instantly makes it more valuable in my eyes.
Starter kit costs range from $15 all the way up to over $100. Most cheaper kits will not come with a tree already grown. They will likely come with a packet of seeds for you to grow your own tree. Keep in mind, growing a tree from seed can take a long time, and you won't get the full bonsai look for a couple of years. More expensive kits will typically come with a tree that is already 2-4 years old.
In general, starter kits are definitely worth the investment if you're serious about starting a bonsai collection or growing your skills in the art form. They can save you time and money in the long run, and help you create a stunning bonsai tree that will bring years of enjoyment.
Top 3 Bonsai Starter Kits
Eastern Leaf has a wide variety of Bonsai starter kits, which is why it makes the number one spot on our recommendation list. Their kits include fertilizer, a humidity tray, training wire, thinning shears, a pocket guide, the container to grow your tree, and of course, the tree itself. These kits provide you with a high quality bonsai tree and everything you need to care for it.
Bonsai Boy has two options for bonsai starter kits. Both kits are the same with the exception of the type of tree they include. The kit linked above comes with a Jade tree, while the other one comes with a Juniper tree. Both of these options include the training wire, humidity tray, the soil and decorative rock to plant the tree in, shears, care instructions, and so much more.
This starter kit is a more affordable option that includes everything you need to grow your bonsai tree from seeds, plus a few extra things that will make caring for your tree easier. It comes with 5 different types of bonsai trees for you to grow, and enough bags and soil to grow each of them.
FAQ Bonsai Start Kit
What is the best bonsai to start with?
For beginners, we recommend going with either a Ficus Bonsai or Juniper Bonsai. They are the easiest to care for and the most forgiving during the learning phase of your bonsai plant journey. Other easier options include the Fukien tea, Hawaiian umbrella, and the Sweet plum.
How Long Do Bonsai Trees Take To Grow?
Bonsai trees can take years to grow, depending on the species of tree and the growing conditions. Faster-growing trees such as maples can take as little as a year to develop into a full-sized bonsai, while slower-growing trees like pines may take several years. Bonsai starters kits can help speed up the growth of your bonsai tree by providing everything you need to get started, including a suitable pot, soil, fertilizer, and instructions.
Most starter kits come with a tree that is already a couple of years old, so you would only need to worry about maintenance and care for the tree, not growing it from seed.
Are bonsai hard to maintain?
Many people believe that bonsai are difficult to care for, but with a little bit of knowledge they can be easy to maintain. Bonsai are not like other houseplants; they require different tools and techniques to keep them healthy and looking their best. Keep this guide in mind, and bonsai maintenance won't seem so daunting later on.
Bonsai Start Kit Final Thoughts
A bonsai starter kit is a great way to get started in the ancient art of bonsai. These kits come with everything you need to get started, including a tree, pot, soil, fertilizer, and instructions. If you're looking for a new hobby, or just want to try your hand at something different, a bonsai starter kit is definitely worth trying. Not all kits are created equal, so make sure to choose a kit that has everything you will need to care for your bonsai tree.
Bonsai With Us!
The Bonsai Resource Center is here to help you learn about all things bonsai and provide you with the tools you need to keep your plant healthy and strong. Explore our other articles, visit our online shop, and connect with other bonsai lovers in our Facebook group to learn everything you need to know about this rewarding hobby!